Which humanoid is the best for sale in the luxury segment?
As an Amazon Associate, I earn on qualified purchases.
The planned Optimus Robot from Tesla is not yet available in spring 2023. The Tesla Optimus Robot is the brainchild of billionaire Elon Musk. Optimus is supposed to have the characteristics of a smart humanoid. Tesla is testing Optimus in its own production. This compilation lists already available high-priced humanoids. The main differences between humanoids are the way they move and their developing artificial intelligence.
Real humanoids can move in 2 ways. It is a locomotion with simple wheels, or with walking gear possible. For humanoids, complex walking systems with legs should not be overrated at the moment. Walkers lead to systems that are much more expensive and energy intensive. Walking systems make sense for stairs, or for outdoor use. Experience shows that moving and complex parts are prone to failure and require high maintenance. Due to a lack of practical experience, no recommendation is made for heavy humanoids. Rollers or caterpillars are currently still unsurpassed for ground-level and flat inclined movements.
The basis of artificial intelligence
With regard to the form of artificial intelligence, a fundamental distinction can be made between 2 technical solutions. On the one hand, a decentralized isolated solution of humanoids with integrated computing power and software is possible. On the other hand, there are cloud-based humanoids (e.g. the Cloud Ginger). Cloud-based technology includes centralized online-based computing and storage solutions. Networked cloud-based solutions are promising in the context of Industry 4.0. However, networking requires additional IT security measures. Furthermore, a stable connection by means of radio networks, or stationary cabling is necessary. Therefore, although an isolated solution is less dynamic, it is not as susceptible to faults. In the future, cloud-based solutions for the economy are likely to be successful. For home users, standalone solutions could be more advantageous overall, especially to protect privacy.
Although the robot has no artificial skin or hair, it stands out with motor and speech capabilities. For example, there are over 30 actuators, including movable arms and hands. Cloud Ginger has highly developed capabilities for grasping and handling products, such as food and drinks. Accordingly, arms and joints are also capable of precise movements. Cloud Ginger is movable on casters.

Cloud Ginger also features sophisticated artificial intelligence. The manufacturer advertises the cloud-based artificial intelligence. This solution is supposed to control movements and processes particularly dynamically and appropriately. Numerous sensors are available for this (e.g. cameras and ultrasound). This facilitates interaction with other robots and the networking of various systems in line with Industry 4.0. The Cloud Ginger is also designed for particularly fluent speech dialog with humans.

Overall, the humanoid looks very appealing, above-average natural and is the most expensive humanoid in this compilation. This humanoid was awarded the 2020 Red Star Design Award in 2020. A luxury model among humanoids, it currently costs over approximately $150,000 USD. This is more than ten times the price of the company aoborobot.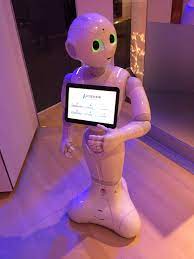 Pepper is a well-known humanoid with a size of approximately 47.2″ or 120 cm x 42 cm x48 cm. The weight is 61.7 lbs or 28kg. Pepper can move his arms and parts of his upper body with great agility. The eyes can use moody bold colors. Pepper is designed for friendly conversations with humans. The exterior and speech functions are childlike. Spontaneous conversation is possible as far as the robot knows the words and understands them acoustically. The system is further developed by open source. Pepper is able to perform choreographies independently on voice command. Impressive are the short reaction times and the range of parallel playback of music, or speech and movements of the whole upper body up to the fingertips. Pepper imitates a developed personality of his own, reflecting his own abilities and idiosyncrasies.
In one version, the humanoid has a large display in front of its upper body. This makes "Pepper" very interesting for information and marketing events. Pepper stands very stable and can move on rollers.  Like other humanoids, it has a kind of "skirt" at the foot, which hides the landing gear.
Overall, Pepper appears to be above average in terms of maturity and quality. This humanoid is already in use in larger numbers. Therefore, the higher price for Pepper seems justified.
* You can support bot-info.com. If you make a purchase through links on our website, we may receive an affiliate commission.
Pepper the 'emotional' robot visits the FT
with access to the newsletter
* You can support bot-info.com. If you make a purchase through links on our website, we may receive an affiliate commission.